This spicy-sweet sweet potato and pineapple curry is vegan, simple to make and will warm you from the inside out.
You guuuyyyysss! In just a couple of short weeks I will be flying across the atlantic to spend a little time at home with my family. Yay! I'm so excited for all things England- the normal-sized portions of comfort food, the drizzly weather, the long walks, the cosy pubs! Theres just one small glitch- a transatlantic flight with an infant, including a 6 hour overlay in Atlanta… gahh!
So why would we put ourselves though that? Well, my sissie is getting married, hooray! I would say thats a pretty good reason. So, speaking of my sissie (seamless segway…!), she was the person to turn me on to the magical combination of sweet potato, pineapple and coconut milk (thanks sis!).
She found the original recipe here, and I tweaked it a little to create this beautiful, warming, spicy-sweet curry. It is fantastic on its own, or with rice or naan. It also freezes nicely and makes terrific leftovers. I am urging you to make a big batch today so you can reap all of the sweet, warming benefits. Enjoy!
Sweet Potato Pineapple Curry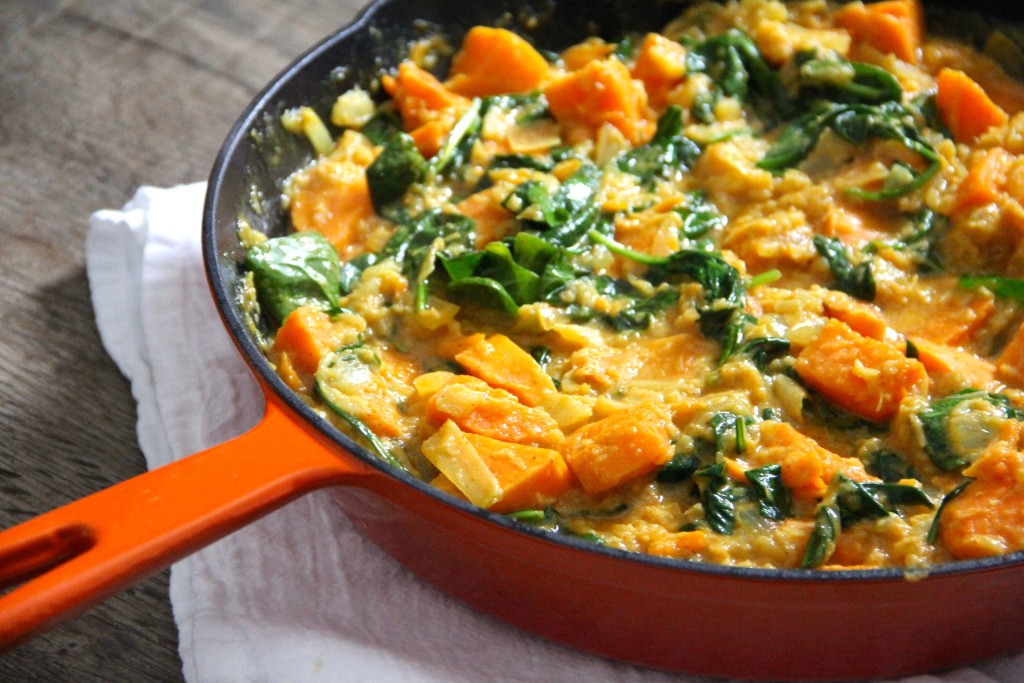 PrintPrep time5 minsCook time34 minsTotal time39 mins This spicy-sweet sweet potato and pineapple curry is vegan, simple to make and will warm you from the inside out.Author: EmmaRecipe type: MainServes: 6Ingredients
1 tbsp coconut oil or any other flavourless oil
1 medium onion, thinly sliced
2 medium sweet potatoes, peeled and cut into 1 inch chunks
1 tbsp curry powder
cayenne pepper or chili powder to taste (I add about ½ a tsp of cayenne, but go with what you like!)
15oz/400g tin of coconut milk
15oz/400g tin of crushed pineapple
3 generous handfuls of baby spinach
fresh coriander to garnish (optional)
rice or naan to serve (optional)
Method
Heat oil over medium heat in a large, lidded skillet
Add the onion, and saute until softened
Add the sweet potatoes and curry powder, and give everything a good mix. Put the lid on the skillet and cook for about 5 minutes until the sweet potato starts to get slightly tinged at the edges
Add the coconut milk and pineapple to the pan, give everything a good stir until well mixed. Simmer, covered for about 25 minutes until the sweet potato is tender
Add the spinach and stir until just wilted (just a minute or so!)
Serve in bowls with rice or naan, sprinkle a little fresh corainder on top, if you wish!